Wrongfully imprisoned for 24 years, Adam Gray spent much of his youth and most of his adulthood in maximum security prison due to Chicago police misconduct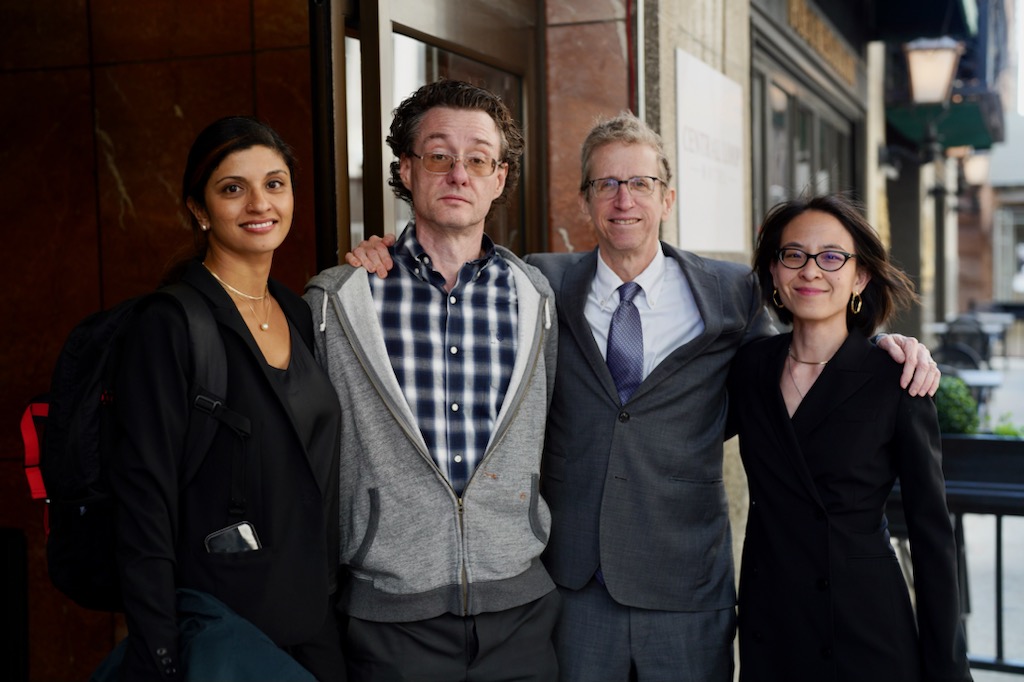 CHICAGO – After a nearly three-decade quest for justice, Adam Gray, who was framed for arson just a few weeks after turning age 14, was awarded $27 million today by a federal jury here. The jury found that Chicago police officers coerced a false confession and fabricated evidence to frame him.
Adam was arrested after a fatal fire that was likely not an arson. Despite his repeated pleas of innocence and his mom's and brother's requests to see him, Chicago police officers denied the young teenager access to them. Instead, they used aggressive and brutal interrogation tactics over hours, finally prompting a false confession that led to his 24-year-long wrongful imprisonment.
At a press conference immediately following the announcement of the $27 million verdict, Adam Gray told reporters that "These dirty cops need to be stopped. It's out of control. Break down the blue wall of silence."
"There are a lot of people in prison for crimes they didn't commit. It's important that not just the people that are wronged get compensation, but that we don't forget [the] people in prison based on junk science, coerced confessions, and fabricated evidence," Jon Loevy said at today's press conference.
At the time of his arrest in March 1993, Gray lived with his family in the Brighton Park neighborhood of Chicago. At about 3 am on March 25, 1993, a fire began that consumed a two-flat building about a block from Gray's home, killing two elderly residents. There was no physical evidence linking Gray to the fire, and no physical evidence that the fire was arson. At the time, arson investigators used "junk science" to allege that gasoline was used to start a fire – despite the lack of any gasoline at the site of the fire.
Police quickly located Gray and took him to the Area 1 police station for interrogation in the early morning. During this interrogation, Gray was prevented from seeing or talking to his mother or adult brother, who were at the police station trying to talk to him. Instead, the police officers lied to Adam by saying that his brother was not there and that his mother did not care what happened to him. The officers also denied young Gray the right to counsel, and became aggressive and hostile. These brutal interrogation tactics lasted for hours. Gray alleges he was told a number of other lies—including that he would be given the electric chair if he didn't confess—so after hours of police manipulation and coercion, Gray succumbed to their tactics and falsely implicated himself in the fire. This photo was taken of Gray shortly after his false confession. He was denied food for the hours-long interrogation.
All of the "witnesses" against Gray, including a 14-year-old girl, were either intimidated into identifying him or did so as a result of overly suggestive line-ups or questioning. While defendants claimed there was physical evidence showing that the fire was spread by a gasoline and hence was arson, laboratory tests showed the debris from the fire did not have gasoline, and there was no other evidence of a liquid accelerant. Defendants manufactured a false story about a milk jug which they claimed Gray had filled with gasoline to start the fire and promised the teenager he could go home if he just "came clean." There was no gasoline residue in the milk jug.
As a result of police misconduct, Adam was sentenced to life imprisonment without parole at the age of 17. In May 2017 Gray's conviction was vacated, his charges dismissed, and he was finally exonerated due to the hard work of several pro bono attorneys.
In 2021, Illinois became the first state to bar police from lying to children under the age of 18 during interrogations. The use of deceptive interrogation practices—including officers making false promises of leniency and false claims about the existence of incriminating evidence—have long been identified as significantly increasing the risk of false confessions, which have played a significant role in wrongful convictions across the country. Recent studies suggest that children under 18 are between two and three times more likely to falsely confess than adults. Deceptive interrogation practices remain legal for adults in all 50 states and remain legal for minors in all states except Illinois and Colorado.
Mr. Gray is represented in his suit against the City of Chicago by attorneys Jon Loevy, Elizabeth Wang, Roshna Bala Keen and Jordan Poole of Loevy & Loevy.
Read more about Mr. Gray's big win in the Chicago Sun-Times: