Chicago for decades has denied justice to survivors of gross police misconduct, wasting tens of millions of taxpayer dollars to defend indefensible misconduct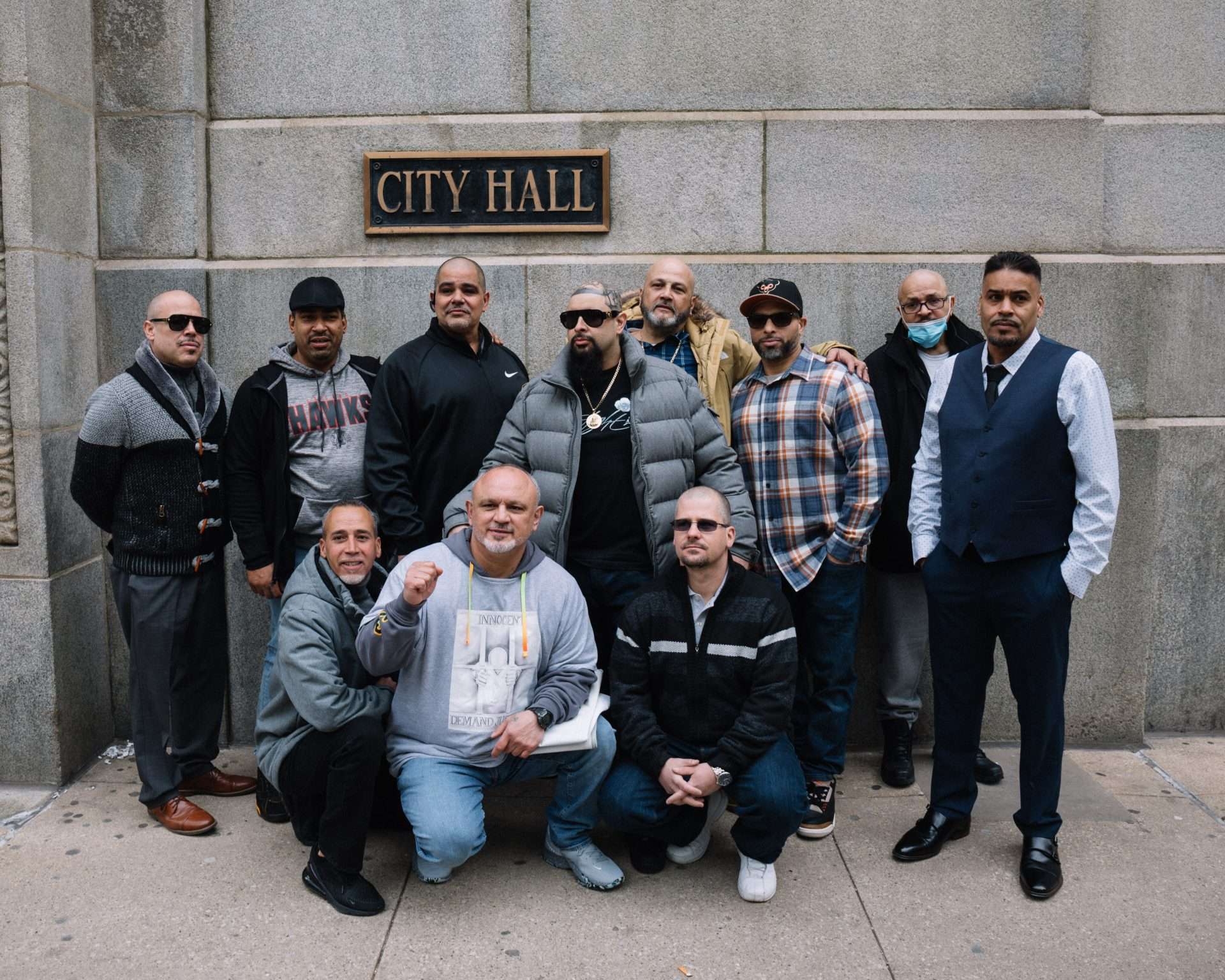 CHICAGO, March 21, 2023 – Today survivors of extreme Chicago police misconduct gathered at City Hall to demand that both candidates address a central cause of the City's struggles with policing issues: the City's decades-long failure to proactively pursue justice for those who have been wrongfully convicted by Chicago police officers who break the law.
Eleven more innocent survivors of notorious Det. Reynaldo Guevara's investigative misconduct, who collectively were wrongly imprisoned for hundreds of years, have filed new lawsuits against the City of Chicago, Detective Guevara, and other officers. Eruby Abrego, Edwin Davila, Johnny Flores, David Gecht, Alfredo Gonzalez, Juan Hernandez, Rosendo Hernandez, David Lugo, John Martinez, Gamalier Rivera and Daniel Rodriguez were all wrongly convicted of murders they did not commit (full copies of their lawsuits are hyperlinked to each of their names). All of them were exonerated after it came to light that Det. Guevara had manipulated evidence to cause their wrongful convictions.
In a statement released by their attorneys at Loevy & Loevy, the 11 victims said:
Today we are demanding change. Chicago's next mayor will inherit a decades-long legacy of police violence and misconduct, which has caused incalculable damage to predominantly Black and Brown communities in Chicago and has made our City unsafe. Instead of addressing the misconduct and healing our communities, the City of Chicago has defended unforgivable misconduct, and it has wasted millions of dollars of taxpayer money doing so. The next mayor should put the City on a different path.
In his tenure as a Chicago Detective, Detective Guevara manipulated, coerced, framed, and tortured dozens of innocent people. His actions decimated families, strained communities, and caused dozens of Black and Brown men and women to be torn from their lives and wrongly incarcerated for decades. So far, 39 people wrongly convicted of murder because of Defendant Guevara's misconduct have had their convictions thrown out.
Government leaders and courts throughout the City and State have now recognized and have repeatedly acknowledged the extreme harm that Detective Guevara and the Area Five crew of detectives inflicted. The Illinois Appellate Court has called Detective Guevara "a malignant blight on the Chicago Police Department and the judicial system." Judges have also found that Detective Guevara "engaged in a pattern and practice of intimidating, threatening, and influencing witnesses in . . . homicide investigations." The Cook County State's Attorney has concluded that more than a dozen murder convictions obtained by Detective Guevara violated due process and cannot stand, leading last year to the first mass exoneration of murder cases in the United States. Detective Guevara, meanwhile, does not deny the heinous misconduct he and his colleagues committed. Instead, when asked about whether he framed each of these 11 victims, he has pleaded his Fifth Amendment right against incriminating himself.
Despite all of this, instead of helping victims and their families by compensating them for the harm that Detective Guevara and his fellow Area Five detectives have caused, the City of Chicago has fought their cases at every turn. The City has paid more than spent more than $75 million of taxpayer dollars paying for Guevara's misconduct. It has spent over $23 million on outside lawyers to fight cases brought by Guevara's victims, paying those attorneys at least $300,000 per month in these cases. The City is poised to waste hundreds of millions more fighting these cases in the future.
Read the facts about Chicago Police Det. Guevara:
Read the lawsuits:
Copies of the legal complaints are hyperlinked to the following Plaintiff names: Eruby Abrego, Edwin Davila, Johnny Flores, David Gecht, Alfredo Gonzalez, Juan Hernandez, Rosendo Hernandez, David Lugo, John Martinez, Gamalier Rivera and Daniel Rodriguez